Hi everyone!!!!!
I know -- I know I haven't put any new stuff on my site in a long time.
No excuses about who to blame but Mommy got an Iphone for Christmas and has been taking most of her pictures with that. Every time I ask for them it's a problem. I tried to get the Iphone to get the pictures myself but it was always just out of reach.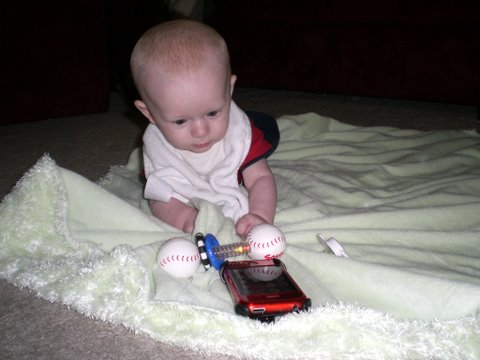 Annnnyway there's been a lot going on and I'll get to that but on Sunday March 9, 2008 Mommy and Daddy had me Christened at St. Mary's church in Williamstown.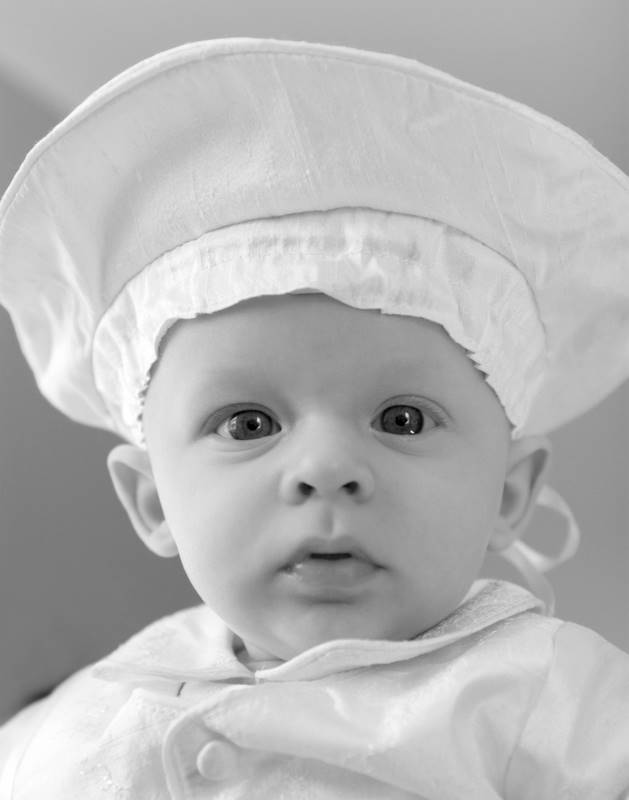 What a cool hat Huh? That cute lady photographer Heidi took some more pictures of me and I made a Photo gallery so check them out. Just click on the picture of my Mom and me.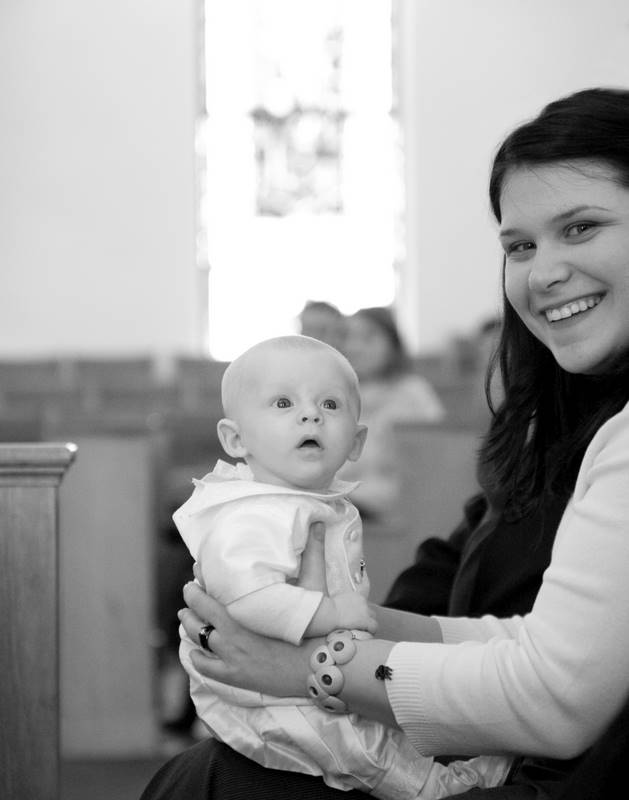 March 17th is my dad's birthday and he dressed me in a really neet outfit with green shamrocks all over it. I don't know why but they call his birthday St. Patty's day or something like that. He's 31 years old. Can you imagine anything that old.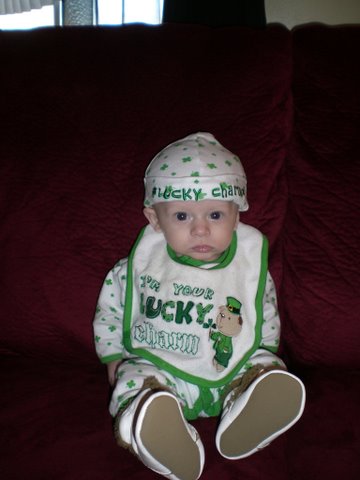 I was always hungry and not gaining much weight so Mommy started me on real food. I think she said it was prunes. It didn't taste bad but it was really hard to eat.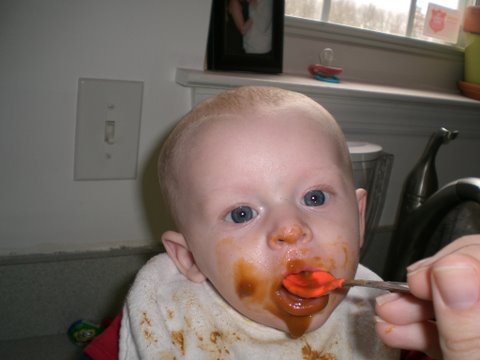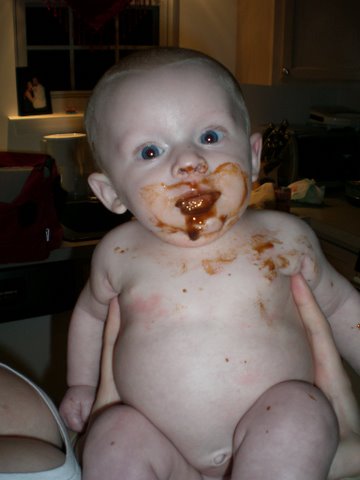 I really think I need a bath. WOW!! was I a mess.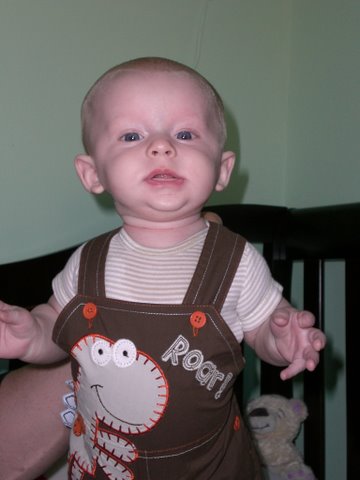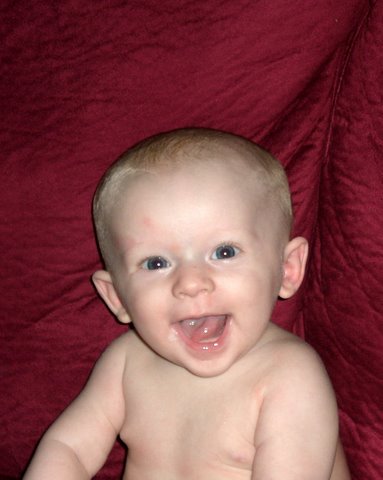 Now I feel better!
I gave Mommy this scary face while she was bending over and she really screamed loud.
We finally got some warm weather and I got mommy to try on some of my summer dudds and make sure I'm ready for the beach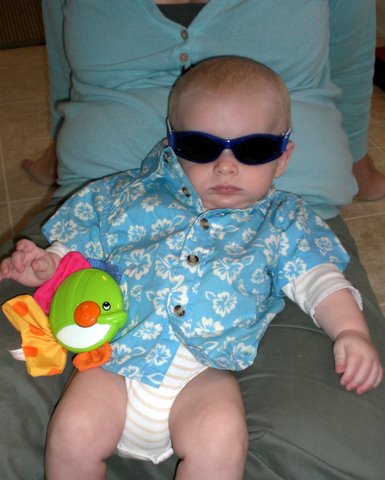 .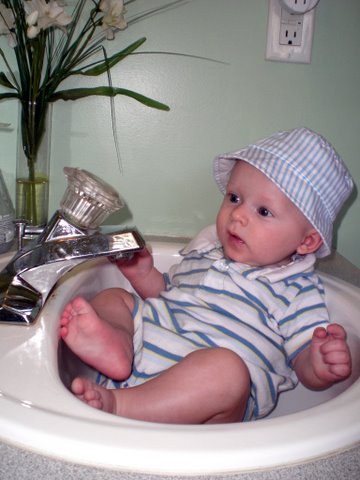 Pretty cool hat huh? I don't want to get sunburned on my head.
We made it down the shore for my first visit on Friday 4/25/2008 and I really liked the sand. I didn't get to dig as much as I wanted but I did put my foot prints in the sand with Mommy and Daddy. Man Daddy has Bam Bam feet!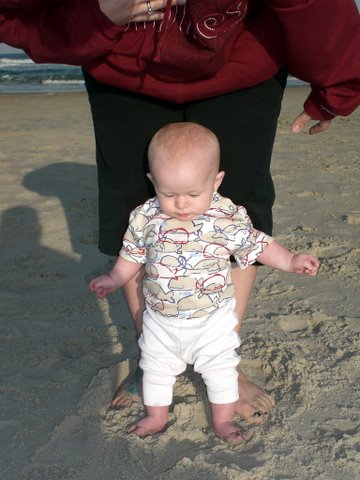 PopPop went out and got a shirt like mine so we can match when we go to Florida. Oh yeah did I tell you I'm going to Florida to hang out with Mommy and Daddy and Bobci and PopPop. I didn't even know I had my own room down there with Mickey Mouse on the wall and everything. I'll send some pictures when I get them.
I just found out that while we are in Florida next week
I'M GOING TO
DISNEY WORLD!!!!!!!
YEAAH!!!!!!!!
Mommy took me to the picture place today and I got my picture taken. I really liked the wagon and the teddy bear but I didn't get to keep them. Someone please tell my grandparents that I really really love them and I really need a wagon and teddy bear. I'll pay them back I promise or at least I'll give them a big hug and kiss.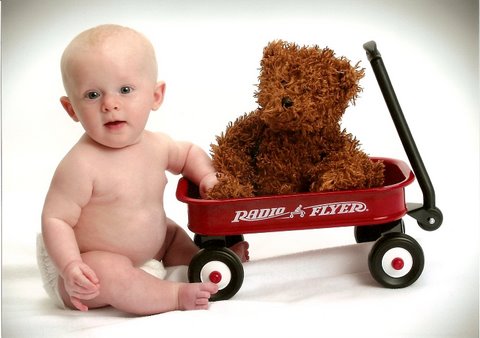 Well!! - I have been trying to get more pictures because I got some complaints that there weren't enough so I put the slideshow of my Christening and now I'm hearing that they liked it better when I talk about each picture. You just can't win can you. So now I'm doing both and I even have a blog for anyone who wants to leave a comment. Check it out. Click here to see my blog.
So let's see -- what's new. Well Mommy and Daddy got a new car because my car seat didn't fit in the Mini too well. It fit but nothing else did.
WOW!! I rode in an airplane last week and it was amazing. I checked everything out when we go on the plane and then I took a little nap and we were in Florida. It's the only way to travel. It took PopPop and Babci 16 hours to get there. That's crazy huh?
The first thing I did was go for a swim. Man was that great just sittin on my tube and soakin up some rays.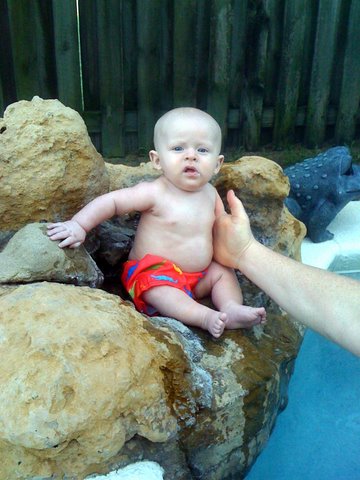 I wanted to slide down the waterfall but Daddy said NO! and took me off. What a kill joy! I guess he was afraid I would get hurt on the rocks. Geez does he think I'm a baby? I'm almost 6 moths old you know.
I did feel a lot better after braekfast on the lanaii.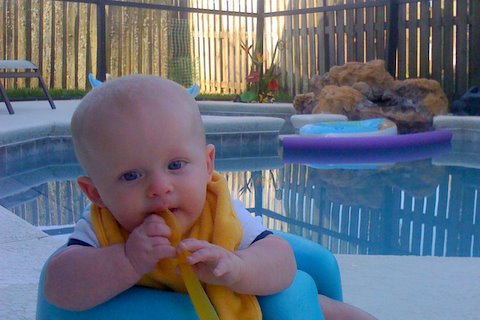 PopPop bought a shirt like mine so we could match and we would both look look like Jimmy Buffet. What's a Margarita?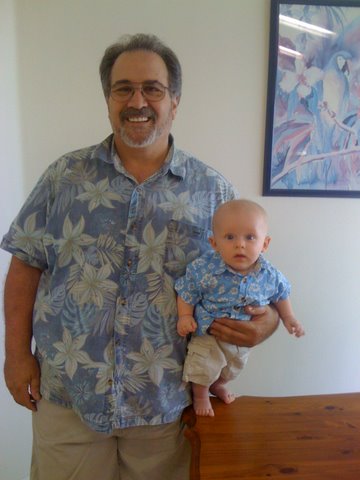 We sure did have a great time. We went to The Rainforest Cafe at Disney World for lunch and we saw a lego monster and dinosaur. We walked around Downtown Disney and ate at the House of Blues and Mommy and Daddy went to Cirque while I babysat PopPop and Babci. They need lots of attention so I smile at them a lot and they love it.
I was really tired after all the walking we did so I just put my hands behind my head and caught a couple ZZZZZZZZZZZZZ's
A lot has happened in the last three months. HUH? but Guess What. Today is the day before my birthday!!!!!!!!!!!!!
Yeah. Happy 6 month birthday to me May 27, 2008. See you on the next page.